of all time-loss claims in construction involved falls (149 out of 565) in 2022

of all time-loss claims in construction involved falls (100 out of 457) in 2021
This represents an increase by nearly 50 percent, from 100 in 2021 to 149 in 2022.
In 2022, there were 15,259 days lost to workplace injury from falls in the construction sector.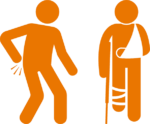 The most common injury types from falls in construction are sprains/strains and fractures/dislocations.
Falls can happen from ladders, elevating work-platforms, permanent structures like roofs, and temporary structures such as scaffolds and other types of work platforms.
Fall protection systems are required when working at a fall distance of 3m or more above the nearest safe surface or water, when working at less than 3m above any surface or thing that could cause injury during a fall (for example working above exposed rebar could result in impalement and serious injury even if the fall is less than 3m), or when working above exposed hazardous material, such as in an open tank, bin, pit or vat.
There are many different types of fall protection systems, including guardrails, temporary flooring, personnel safety nets, travel restraint systems, and fall-arrest systems. Fall protection systems may include the use of equipment and components such as body-belts, energy absorbers, full-body harnesses, lanyards, lifelines (horizontal or vertical), self-retracting devices, and work-positioning systems.
Hundreds of calls are made to 1-800-9Labour every year for improper use of elevated work platforms, fall protection systems, ladders and scaffolds.
Both employers and workers have a responsibility for ensuring fall protection is used properly on the work site.